Rainbow Smoothie
Rainbow Smoothie
A Tasty Rainbow of Phytonutrients
You can substitute different ingredients to make your rainbow of color. There are no rules - just have fun. However, to minimize blood sugar spikes I recommend making sure that you have protein, fat, and or fiber included. Here are my suggestions to choose from:
Red – Strawberries, raspberries, sweet red bell pepper, beet juice
Orange – Orange, mango, sweet orange bell pepper, carrot juice, turmeric
Yellow – Pineapple, sweet yellow bell pepper, ginger
Green – Spinach (blends well with berries), green apple, matcha green tea powder
Blue/Purple – Blueberries, blackberries, acai
White/Tan/Brown – Ground flaxseeds/chia seeds/hemp seeds, plant-based protein powder
Water or dairy-alternative (we like unsweetened almond milk)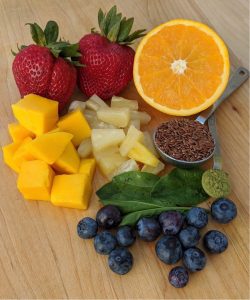 For today's smoothie I did: strawberries (I keep the stems on as they blend in my vitamix), orange (peeled), mango, pineapple, baby spinach leaves fresh from the garden, matcha green tea powder, blueberries, ground flaxseeds and a plant-based protein powder.