Ginger Tea
Ginger Tea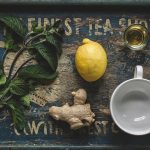 1 Tablespoon Fresh ginger root, grated or thinly sliced (washed and peeled or just washed)
2 Cups Boiling Filtered water
1/4 Lemon ((optional))
Honey ((optional -to taste))
There are many ways to make ginger tea. You can brew a large batch of it and sip it throughout the day, or just make yourself a single serve cup.

To the boiling water, you will add the fresh ginger root. I used to peel the ginger root, but since I usually am not eating the root lately I just wash it (although I still have been known to eat the peel). If you shred the ginger root, then there will be more surface area to interact with the water and release more of its flavor and phytonutrients, but you can also just use ginger root that has been thinly sliced. Allow this to steep for at least 5 minutes. For more gingery flavor, you can steep it longer, keeping the water at a simmer. The darker the liquid, the more strong you will experience the ginger flavor

While I usually drink my ginger tea plain, some enjoy lemon juice and honey mixed in. You could even add a little mint to enhance the flavors.

Sip and enjoy!